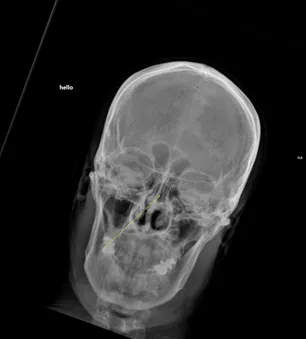 At West Hartford Chiropractic we only use advanced diagnostic procedures and tools to bring our patients the latest and best in chiropractic care. Dr. Moshe Laub of West Hartford Chiropractic LLC are committed to using the best in technology for patient recovery from sports injuries, car accident injuries, workplace incidents, and spinal conditions. Advanced diagnostic procedures are integral to our approach because proper and effective chiropractic care treatment begins with an accurate diagnosis.
West Hartford Chiropractic: Advanced Diagnostic Procedures and Tools
Dr. Moshe Laub, along with the doctors and staff of West Hartford Chiropractic, utilize state-of-the-art direct digital cesium X rays to identify the root cause of your pain. Direct digital X-Rays Cesium machines are the latest innovation in radiography and provide the highest image quality with lower radiation exposure than traditional X-rays. They also utilize a state-of-the-art subluxation station to evaluate the neuro-spinal function.

This subluxation station is engineered with a variety of technologies, including Thermography, Digital Pain Algometry, Static and Dynamic Surface EMG, 3D- Range of motion algometry, and Pulse Wave Profiler. In addition to its initial diagnostic value the subluxation station gives Dr. Laub insight into how patient well-being is influenced by chiropractic care. With Static and Dynamic Surface EMG Dr. Laub and his associates get an accurate insight into the exact function or dysfunction of the nerve supply to the muscles, while the 3D- Range of motion algometry helps digitally quantifying the patient's neck, upper back and lower back ranges of motion for a schedule monitoring and re-evaluation of patients progress and care. The subluxation station's Thermal Scanner measures paraspinal temperature differential to identify abnormalities in the autonomic nervous system and spine. With Digital Pain Algometry, pain patterns are mapped out to monitor pain sensitivity progress. And with its pulse wave profiler, they can obtain patient skin conduction ECG metrics to develop a roadmap to wellness. The subluxation station provides valuable data about the patient's autonomous nervous system. Dr. Laub believe that all of our patients deserve the best in technology to allow the best in diagnosis, management and care.
Quantitative Ultrasonic Bone Densitometry at West Hartford Chiropractic
To measure the bone mineral content and bone density of patients, Dr. Moshe Laub along with the doctors and staff of West Hartford chiropractic use quantitative ultrasonic bone densitometry. This scan takes precise measurements to evaluate bone mass. Bone densitometry is often used to measure bone density of the spinal bones, hip and pelvis and is effective in the diagnosis of osteoporosis and osteopenia. With the measurements of bone mass, a chiropractic care treatment plan can be developed to address bone weakness. Innovative methods to treat bone weakness at West Hartford Chiropractic include reflexology, cold laser therapy, and wave whole body vibration therapy. All around, West Hartford Chiropractic is a state-of-the art wellness center which combines modern technology with effective chiropractic techniques.
If you're suffering with an injury from a headache, neck pain, lower back pain, jaw pain, limb pain, car accident, sport or spinal condition, you are pregnant and in pain, or you have kids who suffer pains turn to West Hartford Chiropractic for the latest technology in treatment. Give us a call at (860)232-5556 to schedule an appointment.